CCA KZ Acoustics - KZ ZSN Dual Driver (1BA and 1 DD) Earphones with Mic (Black) (In Stock)
R 590.00

R 590.00

Save

R 700.00
---
KZ ZSN
SECOND-GENERATION HYBRID EARPHONES
IMPROVE SOUND DETAIL PERFORMANCE!
Metal and resin combined, texture, and details to enhance again!

Precision metal processing technology creates strong and durable works of art
Aviation aluminum alloy combined with imported resin. With a bright sense of fashion color.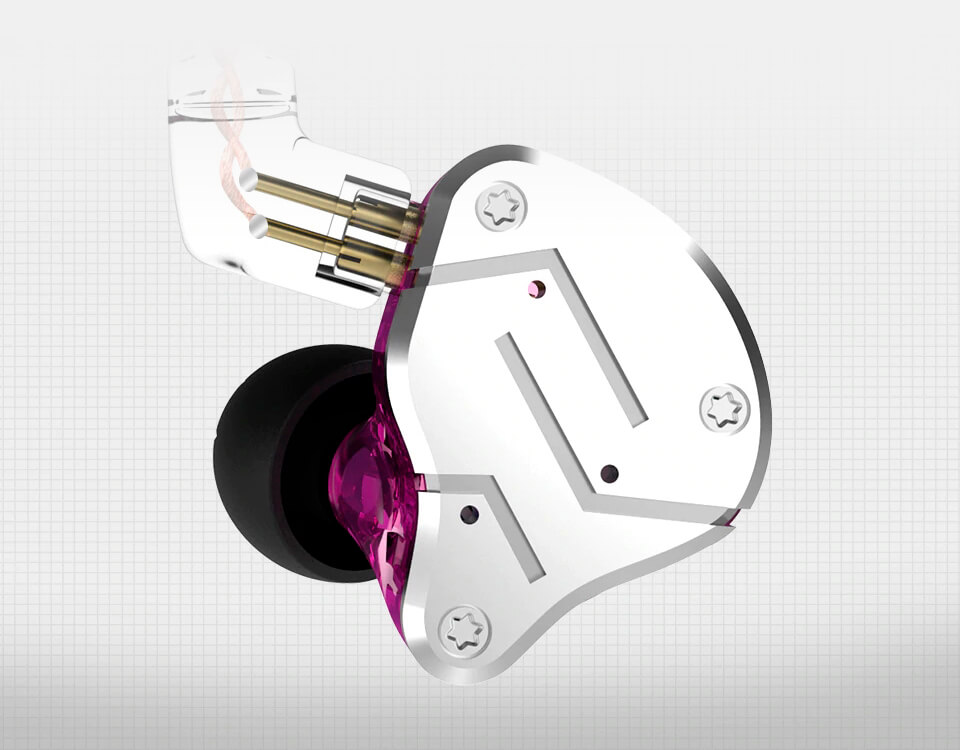 Second-generation hybrid technology show
more sound details
It has a shocking low frequency of the dynamic unit and has a powerful high-frequency analysis of the balanced armature unit, which is more abundant and delicate.
10mm self-developed dynamic
#30095 Customized Balanced Armature
The balanced armature will compensate the sound that the dynamic can't show then the professional-grade sound quality is presented
The treble balanced armature unit has the high-frequency performance ability that the dynamic unit can never reach.
Diaphragm: Hinge with vibrating diaphragm support to ensure consistency of the frequency response curve.
Shell: Upper and lower closure structure, ensure that the unit is free from environmental and temperature interference.
Conduction rod: Arc discharge welding, guaranteed excellent high-frequency effect.
Energy exchange coil: The corrosion resistance of military-grade ensures the long life of the earphone.
Electric driver: After 46 times bending and shaping, it is light and firm, so that the high frequency extends over 40kHz.
Sound outlet: Provides better sound directivity.
Self-developed titanium film dynamic unit significantly improving high-frequency ductility performance
KZ ZSN brings a stronger driving force with a four-layer voice coil, the low frequency is powerful, the sound field width is extended, and the overall hearing is more appealing.
Professional electronic frequency division adjustment technology
Precision internal acoustic structure design and exceptional circuit optimization have achieved the fine division of labor between the two vocal units.
Listen to the details of the sound of high resolution
Intuitive display of curves, stunning acoustic tuning makes the dynamic and balanced armature units complementary advantages, achieve a stable, clean, detailed, rich sound quality effect.
KZ Acoustics Laboratory measured the above data, and actual use may vary slightly depending on the specific situation.

Improved type 0.75mm Gold plating
2 pin plug-in structure
Independent development. Non-traditional manufacturing. Through the analysis of the advantages and disadvantages of a variety of interchangeable cable interface methods in the industry, careful design, and improvement.
Limit slot protection design
Adequate protection of needles to prevent breakage, extend the service life of the interface.
Assembling Bluetooth module
Switch to Bluetooth earphones quickly.
You need to purchase an adapted Bluetooth module separately.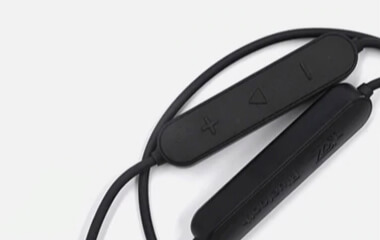 Assembling upgraded cable
Improve sound quality.
You need to purchase an adapted upgrade cable separately.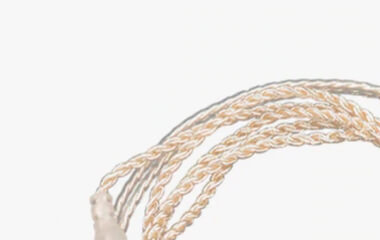 Stable, ergonomic wearing experience
Ergonomic shape KZ ZSN designed based on big data, only to give you a superior wearing experience.
KZ ZSN ear-hook earphones can directly isolate about 26dB of noise when properly wearing without music. Lower volume, better for your listening.
HD Microphone
Customized Mic is designed with double capacitors and supports the international standard (American Standard) interface standard.

Details decide products quality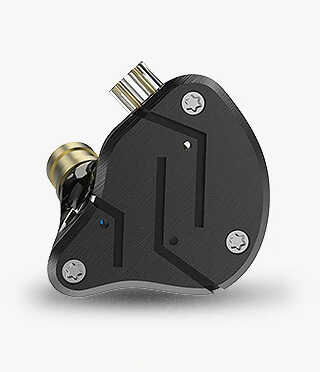 Black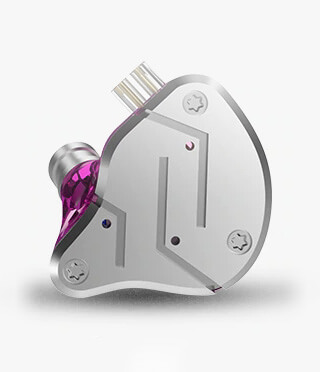 Silver Purple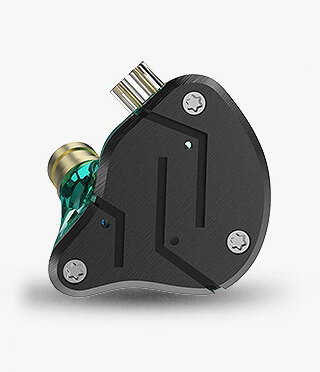 Cyan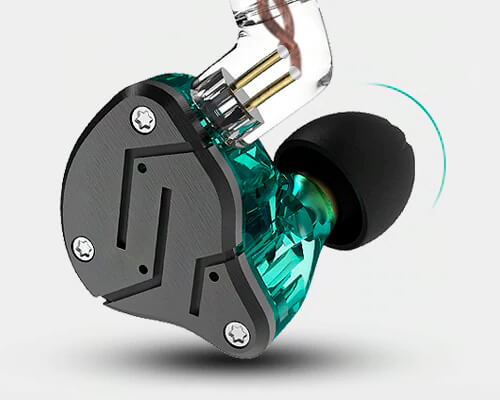 Standard self-patented silicone case

Self-designed patent silicone ear tips, more comfortable fit the human auricle, allow sound to be transmitted more directly to the eardrum, to get a better sound quality experience.

Professional cable scheme

Anti-pull, anti-bending, anti-corrosion, providing excellent sound quality signal transmission. Gun black / Gun cyan collocated with gold brown cable. Silver-purple version of collocated with pink-gold cable.
Fixed with three steel screws

Exquisite texture, durable quality.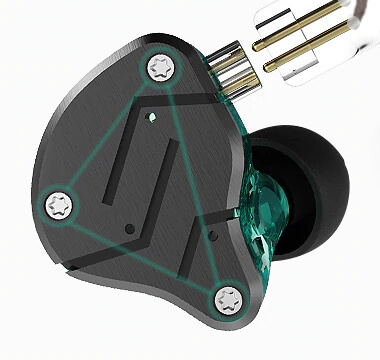 Aluminum alloy sound outlet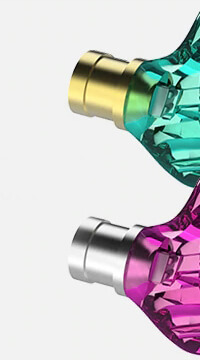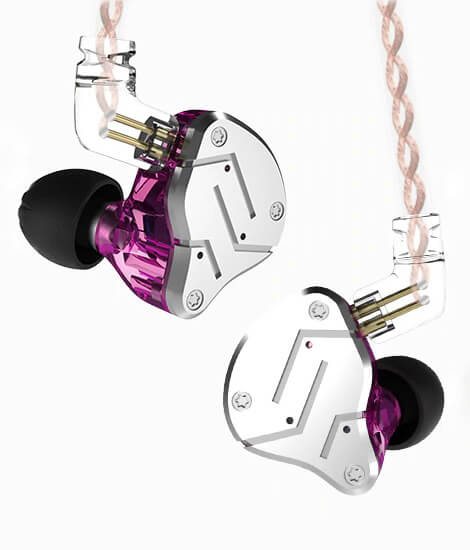 No Mic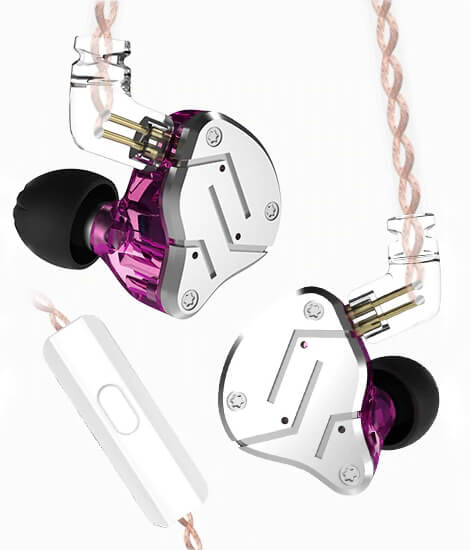 With Mic
Specifications
Control Button:
Standard/ With microphone

* Due to factors such as measurement environment and temperature, it is normal if there are slight tolerances on product parameters.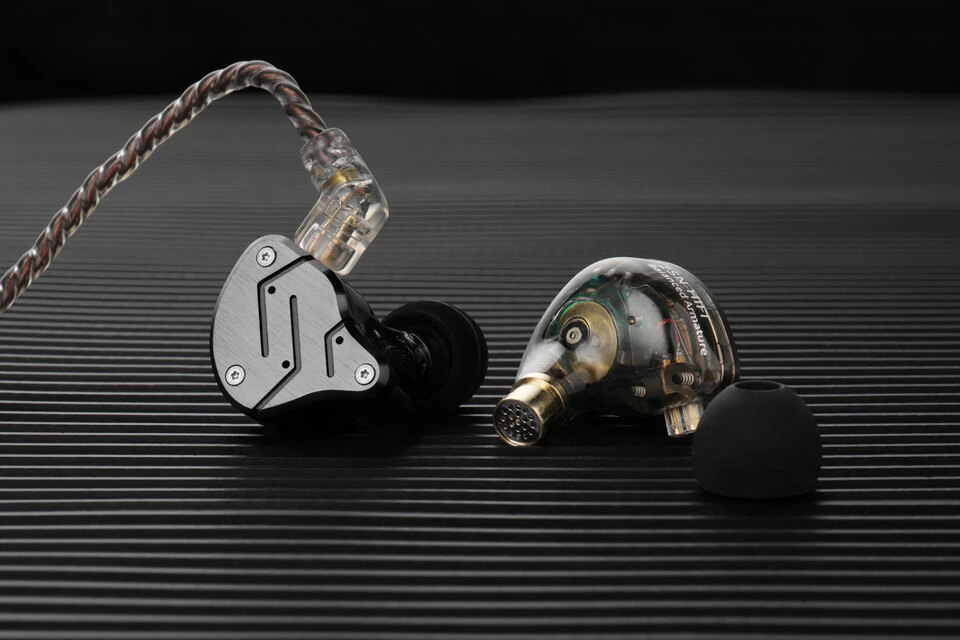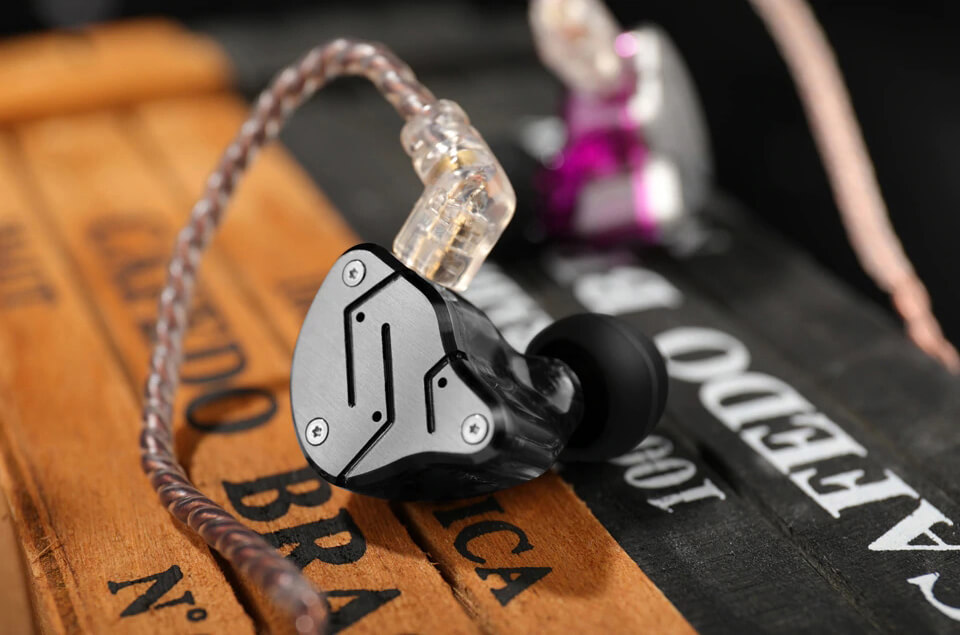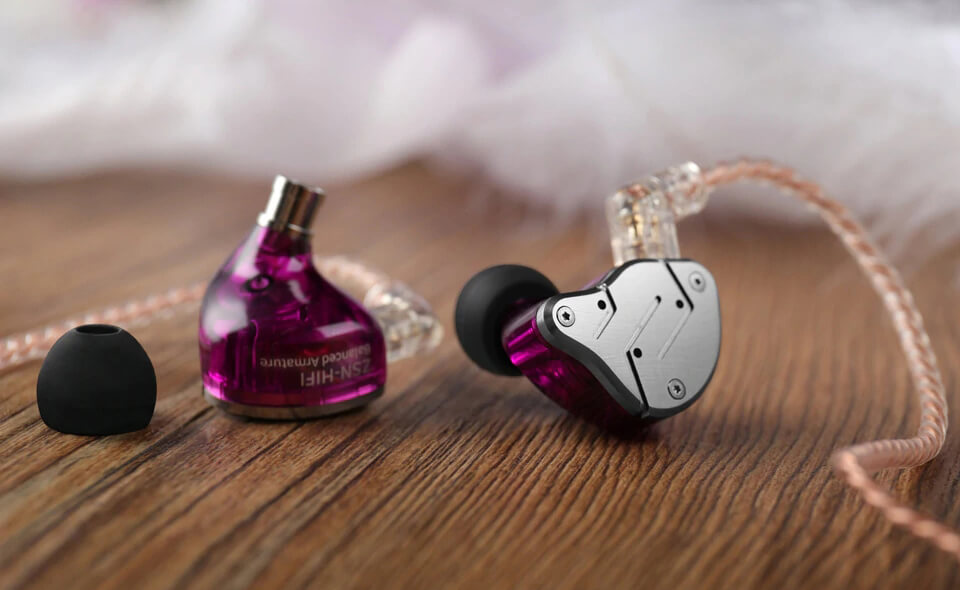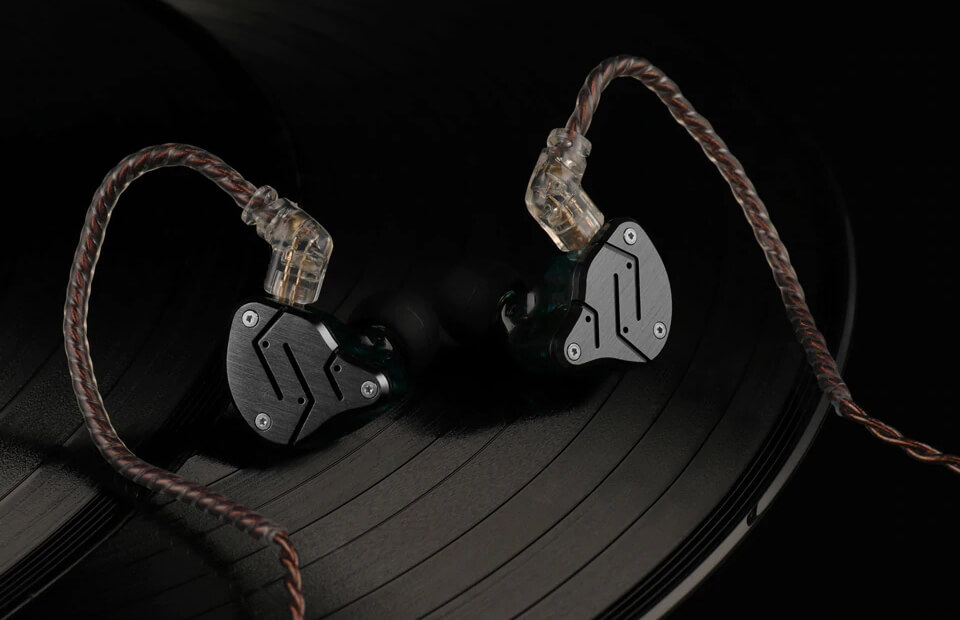 Wire Plugging Schematic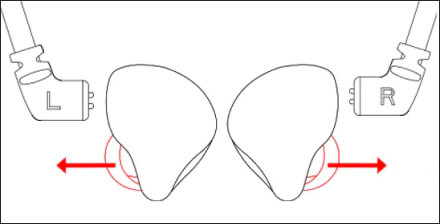 Correctly distinguish Right And Left headphones and wires, as shown.
There are left and right logos on the wire, "L" is on the left, and "R" is on the right. The front of the headset is placed with the silicone sleeve facing left to the left and the silicone sleeve facing to the right, which is the right side.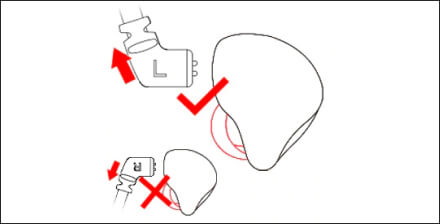 The correct assembly of the wire is with the needle head and "L R" logo facing up. Do not assemble the pinhead down, and it will harm sound quality.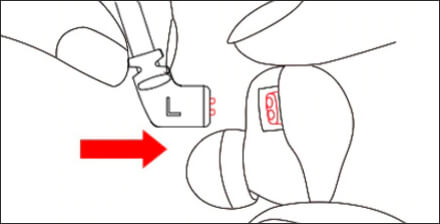 Point the wire to the plug and push it in until it fits perfectly.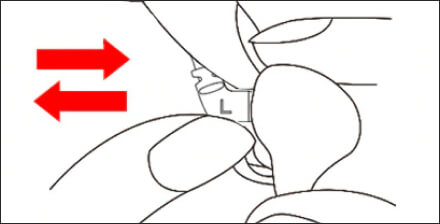 Since the wire is a design that does not easily come off, please be careful when inserting or pulling.
Schematic Diagram Of Headset Wearing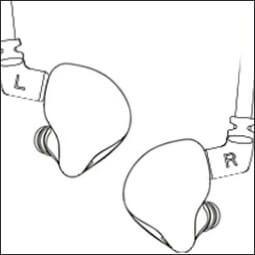 Correctly distinguish right and left headphones, "L" for left, "R" for right.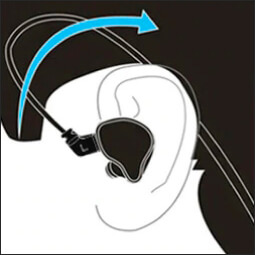 Straight headphones inserted into the ear, correct wear, comfortable wear, excellent sound insulation performance.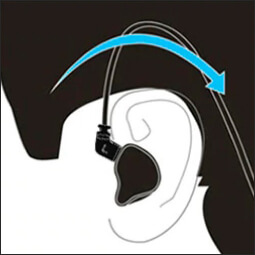 Fix the headset wire behind the ear.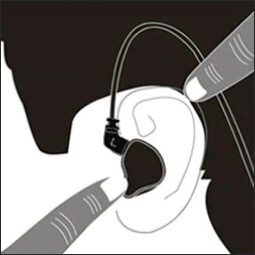 Press and hold the headset panel to adjust the seal.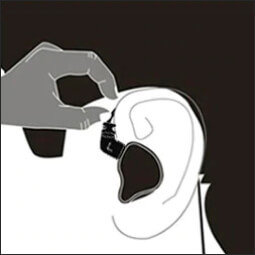 Adjust earphone wire and fix earphones.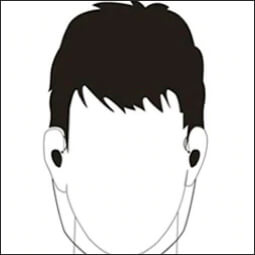 Plug the headset plugs into the play-back device and use it to adjust the volume before the headset is plugged into the device.
---
We Also Recommend